Gallery Weekend Korea 2016 took place in NEMO, Blue Square's convergent art space in Seoul's Hannam-dong area, from October 14 to 16. Launched to propel the globalization of Korea's contemporary art scene and to expand the industry's international networks, the event comprised three main programs: artist showcases, artist discussion sessions, and a panel discussion featuring key industry professionals from overseas. International experts offered their prognoses for the Korean and the world art industry in a new format that allowed a diversity of experts to share their perspectives on Korea's contemporary art on site. The author will offer both observations as well as a deeper look into the prospects of Korea's art industry.
Globalization Strategies for the Korean Art Market
In October, the Korea International Art Fair (KIAF) brought some good news. KIAF recorded a total of US$ 20 million in sales, a 31 percent increase from last year's figures (around US$ 15.3 million). The event's organizers, the Galleries Association of Korea, attributed the upward trend to the rise in collectors who made actual purchases, citing "the effectiveness of marketing strategies targeting professional collectors and connoisseurs." Indeed, this year's KIAF garnered public interest by attracting significant numbers of renowned overseas collectors, art fair affiliates, gallery owners, art advisers, journalists, and other industry professionals.
It turns out that many of these attendees were "VIP guests" of Gallery Weekend Korea, organized by the Ministry of Culture, Sports, and Tourism and hosted by theKorea Arts Management Service (KAMS). Launched this year, the purpose of Gallery Weekend Korea was to push Korea's contemporary art scene into the international market and expand industry professionals' overseas networks. Hosted in accordance with the KIAF schedule, the event recruited various international names that span all fronts of the art market, and they even visited KIAF as part of the weekend.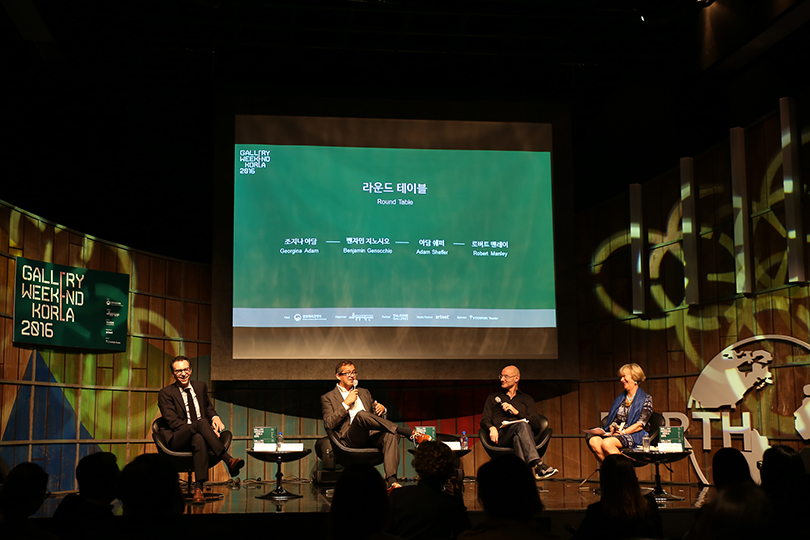 Gallery Weekend Korea: A Mass Gathering of Art Market Professionals
Gallery Weekend Korea was held in Blue Square, a cultural complex in Seoul's Hannam-dong area, from October 14 to 16. The event comprised three main programs: showcases from domestic galleries and artists, a talk-with-the-artists session, and an international panel discussion centered on overseas industry experts. The most intriguing development, however, was that key players in the international art market not only served on the international panel but attended the event as regular guests. The impressive guest list included over thirty industry affiliates, includingBudi Tek, an Indonesian collector of Chinese descent; William Lim, an architect and collector based in Hong Kong; Taiwanese collector Rudi Tseng; Abby Bangser, Frieze's director for the Americas and Asia; Annette Schonholzer, former co-director of Art Basel Hong Kong; Cosmin Costinas, curator for ParaSite in Hong Kong; Ossian Ward, head of content at Lisson Gallery in London; and Sarah Douglas, editor in chief of webzine ARTnews. It's worth noting that Gallery Weekend Korea drew many of the guests to Korea for their first visit. Of course, the event was not exclusive to international figures. Early registration was offered to affiliates of the Korean art industry and enthusiasts from the public.
Guests also attended KIAF's supplementary event, K-Art Conversation, which ran from October 12 to 15. To intensify the "gallery week" atmosphere, there were special lectures by renowned Hong Kong designer Alan Chan; Jonathan Watkins, director of Ikon Gallery in London; and McKenzie Wark, Professor of Media and Cultural Studies at the New School University in New York. To kick off the weekend, choreographer, music director, and DJ Kim Juheon performed a yangban dance rendition for the opening ceremony on October 14. It was a contemporary interpretation of an indigenous form, adding modern music and choreography to traditional movements.

Gallery Showcase: Introducing Korea's Quintessential Galleries and Artists
Now, it's time to examine the details of individual programs. First off, the Gallery Showcase was organized as an open contest for domestic galleries, twenty of which passed the final selection process. Ki Hye-gyeong(manager of operations for the North Seoul Museum of Art), Park Yeong-taek(professor at Kyonggi University), Seo Jinsuk(director of the Nam June Paik Art Center), Yun Jin-seob(art critic), and Hyeon Si-won(co-director of the Audio-Visual Pavilion) constituted the panel of judges. The twenty galleries occupied all three floors of the event's square venue, categorized according to artists into individual exhibits. Fresh experimentation and concepts that are rare in domestic galleries made the event look like a scene out of the "Insights" section we saw in Art Basel and theArmory Show. The main difference was the open format for each booth, as opposed to delineating walls, with each booth specifying the artist's history and background.
Near the entrance to the first-floor exhibit, the sculptures of Na Kim (Kukje Gallery) and the installations of Lee Seung Hee (Park Ryu Sook Gallery) served as centerpieces. Kim's quadrilateral sculpture was topped with a uniquely minimalist graphic pattern, whereas Lee used ceramics to formulate dozens of bamboo trees to create a forest. In addition, Min Jung-Yeon from Gallery G.O.N.G., Park Jihye from Sun Contemporary, and RohwaJeong from Space BM caught viewers' attention with their respective original paintings, collages, and installations. Gallery Weekend Korea was held over three days, and a virtual reality exhibit is currently running online, featuring scenes from the actual event. An artist talk series supplemented the exhibits. Presentations were delivered by critics, collectors, and operators of galleries to which artists like Na Kim and RohwaJeong belong.
International Panel Talk: Proposal for the Korean Art Market
Let's also thoroughly examine the International Panel Talk, arguably the event's highlight. The discussion was divided into three categories: the Art Dealers' Talk, the Collectors' Talk, and Talking Galleries. The program began with the Art Dealers' Talk on October 14. It was a chance to listen to the story of Jose Kuri, dealer and founder of Kurimanzutto Gallery in Mexico. In the 1990s, armed with the concept of nomadic galleries, he garnered international attention by teaming up with young artists such as Gabriel Orozco, Damien Ortega, and Abraham Cruzvillegas for a series of experimental exhibits. He told how his exhibits with Adrian Villar Rosas, Allora & Calzadilla, and Rirkrit Tiravanija had astounded people with monumental installations and performances, and how his career had expanded into the world's premier biennale events and museum exhibitions. Regarding his philosophy of managing galleries, he advised people to "focus on [your] artists" and to "never stop experimenting."
On October 15, the program continued with the Collectors' Talk in the morning and Talking Galleries in the evening. The former featured the personal and professional stories of Serge Tiroche, founder of the Tiroche DeLeon Collection; Sylvain Levy, co-founder of the DSL Collection; and Alain Servais, a financial consultant-turned-collector. Art consultant Park Eun-ju served as moderator. All three collectors focused on works from outside Europe and the United States. They clearly explained the principles behind the concept of turning profits by investing in collections; their commonality was that they all regularly lent their collections to major museums around the world. Tiroche applied his experience in investment property, creating various programs that invested in artists' assets and succeeded in turning a profit. The Tiroche DeLeon Collection, in particular, started out as an art fund to become his main base, and includes names like Yang Haegue and Suh Do-ho. Sylvain Levy defined his holdings as a "museum-type collection," and outlined three defining characteristics. First, he doesn't just buy what he likes but purchases bold works that provoke him personally. Second, he continuously prunes his collection, often buying new works and selling old ones. Third, he actively shares his collections with the public. His collections have been exhibited in world-class venues such as the Guimet Museum in Paris, the Ullens Center for Contemporary Art in Beijing, and National Gallery Singapore. Specializing in Chinese art, Levy is currently working on digitalizing his collection to realize his vision of sharing works from great Chinese artists with the very Chinese people who are separated from him by physical distance. On the other hand, Alain Servais emphasized the importance of collectors continually asking themselves what art really is. He shared his impressions of the Kim Yong-ik exhibit at the Ilmin Museum of Art in Seoul, saying he identified with Kim's steadfast dedication to expressing the fundamental relationship between art and life.

The afternoon session, Talking Galleries, was a roundtable discussion featuring three industry insiders: Robert Manley, vice-chairman of a US auction firm, Phillips; Benjamin Genocchio, a former journalist who recently became director of the Amory Show; and Adam Sheffer, president of the Art Dealers Association of America. Veteran journalist Georgina Adam, who has over thirty years of experience at publications like the Art Newspaper and the Financial Times, served as moderator. The panelists discussed numerous issues regarding the current state of Korean galleries. While galleries of the past squeaked by through sales made to acquaintances and word of mouth, sellers have since become more diversified, selling internationally and transmitting local trends to buyers all over the world. Panelists emphasized that small and medium-sized galleries, which constitute the overwhelming majority of Korean galleries, need to unleash their potential through quick decisions and trend adaptations that would otherwise take longer in more established "mega-galleries."
Genocchio, on the other hand, pointed out the formation of modern capitalism's "attention economy," which runs on provoking people through events and spectacles. He insisted that a single appearance in an attention-grabbing art fair is more much effective than each gallery fighting its own battle. However, the organization he runs, the Amory Show, has since discontinued its original plans to construct a section for the Asia region. Why was the Amory Show seeking to take hold in Asia? He reveals that the market for art fairs was much bigger in places outside the United States and Europe. At the end of the day, the most important factor for an art fair is local demand. Manley pointed out that Chinese and even Latin American collectors tend to prefer art from their own countries. This may seem like the same point, but is in fact slightly different. When it comes to local demand for a certain art work, nationality is probably of little relevance. For instance, in Art Basel in Hong Kong, the collectors who purchase works that deal with Asian art are not necessarily Asian-born. Rather, it's a matter of collectors focusing on works that deal with a specific issue.
The panelists discussed their individual perspectives regarding Korean galleries. Manley said he was familiar with Korean monochrome paintings and that he visits Korea every year, as he considers the market extremely important. Genocchio went so far as to say that Korea's infrastructure was comparable to Japan's, saying it has galleries to suit a variety of tastes, an environment where nonprofit organs coexist alongside corporate galleries, and an industry boosted by considerable public funding. He also offered his prognosis of the local contemporary art scene, saying there was a rush of exhibitions that redefined the conventional boundaries of Korean art. Ossian Ward, who attended as an audience member, said he was paying attention to the consistent support from corporate foundations, citing examples such as Leeum Samsung Museum of Art andArt Sonje Center. Abby Bangser expressed optimism about the future of Korean contemporary art and mentioned that the main section at the Frieze Art Fair featured several Korean galleries.
Regarding strategies to send local galleries to overseas art fairs, the consensus was that there was no cure-all. Annette Schonholzer pointed out that Asian art, unlike the art of Europe, comprises bodies of works that are markedly different from one another. Stressing the crucial nature of an artist's individual growth, she advised artists to gain exposure through those events that would best benefit them in the long run.
Panelists also discussed online marketing strategies, which are an undeniable asset in today's digital era. Ward suggested attracting attention through Instagram and Twitter posts and luring users with links to videos or articles about the featured artist. He insisted that attracting and maintaining people's attention was the most important thing, and was best achieved through quality content. He also mentioned the importance of recruiting artists who utilized the Internet as part of their work, the so-called "post-Internet" artists, and bringing their online work into offline galleries. Genocchio, however, insisted that online events like the VIP Art Fair had undeniably failed, saying that we shouldn't neglect people's desires to have real-life participation and experiences.
Gallery Weekend Korea: Quality over Quantity
Apart from the main program, KAMS organized a separate three-day exhibition tour for all guests. On October 14, they toured major art venues in Seoul's Gangbuk district, including the Museum of Modern and Contemporary Art, Seoul; Kukje Gallery; Hakgojae Gallery/a>; Leehwaik Gallery; Art Sonje Center; Kumho Museum; Gallery Hyundai; Media City Seoul; and Dongdaemun Design Plaza. The following day, they headed to Seoul's Gangnam district to tour the Korea International Art Fair (COEX, halls A and B), Platform-L Contemporary Art Center, Songeun Art Space, and Atelier Hermes. A networking party was held on each of the two evenings, at the Kukje Gallery and Songeun Art Space, respectively, gathering industry professionals from both Korea and abroad.

Gallery Weekend Korea thus made its first courageous steps. The effort to breathe new life into Korea's art market recruited experts from all fields, who got involved in everything from preparations to event management, resulting in an international event of unprecedented proportions. The program brought us industry veterans who shared their thoughts on the art markets of Korea and the world, and the event was the first occasion for such an international cast of professionals to network in Korea using multiple approaches. There were a few tangible outcomes from the event. The KIAF also saw increases in revenue. Various industry insiders expanded their networks in Korea and overseas, while those in the Korean market got a better understanding of international markets. Conversely, international attendees got a clearer glimpse of the Korean industry and thus became more interested. But the fruits of the event clearly go beyond such momentary benefits. The greatest potential benefit lies in the organizers' focus on quality over quantity when it comes to the Korean art market. As the national economy lingers in the shadows of prolonged stagnation, it is my hope that Gallery Weekend Korea will become an annual occasion. I conclude with my hopes that industry organizers can continually improve through persistent commitment to quality, and thereby endow the Korean art market with new vitality.

Tiffany Chae / Editor, Art in Culture
Tiffany Chae is currently writer and editor for monthly
Art in Culture
and regular contributor to
ArtReview Asia
(U.K.),
a.m. post
(Hong kong), etc. Chae was assistant editor for
Korean Art: The Power of Art
(Thames & Hudson, 2014), and coordinator of exhibition "Byungboc Lee: Act Ⅲ, Chapter 3"(Artko Art Center, Seoul, 2013) and "Re-designing the East?"(Total Museum of Contemporary Art, Seoul, 2013).